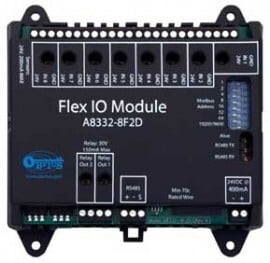 AcquiSuite – Obvius A8332-8F2D
Flex I/O Module, 8 flexible inputs, 2 relay outputs. Modbus RTU output.
Designed specifically for metering applications
Easily add meters and sensor to a Modbus network
8x user selectable inputs
2x output relays
2x pulse replicator
Non-volatile memory
LEDs for visual verification/status
Din or wall mount for easy installation
Field upgradable firmware
The Flex I/O is compatible with virtually any PLC or Modbus Master, allowing for the flexibility to use it in existing Modbus networks. Use with the Obvius AcquiSuite and take advantage of plug-and-play communication or use with the Obvius ModHopper for wireless communication.
Converting analog, resistive and pulse inputs to Modbus
Utility submetering (electric, gas, water, etc.)
Cost allocation
Measurement and verification
Benchmark building energy usage
Relay outputs for demand control
Environmental monitoring
Track energy use and peak demand for demand response
DC current monitoring for renewable energy
Designed specifically for metering applications
Easily add meters and sensor to a Modbus network
8x user selectable inputs
2x output relays
2x pulse replicator
Non-volatile memory
Industrial temperature range -30 to 70C
LEDs for visual verification / status
DIN or wall mount for easy installation
Field upgradable firmware
Inputs

Modes

Voltage:


0 to 10 VDC (min/max/average/instantaneous data)
Accuracy: ±0.25% of full scale at 68°F (20°C)


Current:


4 to 20 mA (min/max/average/instantaneous data)
Accuracy ±0.25% of full scale at 68°F (20°C)


Resistance:


4 to 20 mA (min/max/average/instantaneous data)


Pulse:


Intended for use with dry contact outputs (consumption/rate/runtime/status)
Standard and KYZ modes for form A and C relay outputs
Input terminals supplies 5 V at 5 mA sense voltage to detect contact closures
Maximum rate: 10 Hz, minimum pulse width 50 ms
Adjustable contact closure threshold: 100 Ω to 5 kΩ



Serial Port

RS-485 two wire, 19200 or 9600 baud, 8N1

I/O

8 Flex IO inputs with user selectable modes: voltage, current, resistance, pulse and status

Isolation

Pulse outputs and RS-485 port are isolated to 1500 VDC;
Power input, RS-232 and analog/pulse inputs are non-isolated

Outputs

Relays

2x, dry contact (opto-fet) 30 VDC, 150 mA max

Communication

Protocols

Modbus/RTU

General Specifications

Processor

ARM7, field upgradable firmware

LEDs

8x input status LEDs (red), 2x Modbus TX/RX (yellow), 1 power/alive status (green)

Memory

Pulse count and runtime values are stored in non-volatile memory

Power Supply

24 VDC, 200 mA but not to exceed 8 A, required

Operating Temperature

-22 to 158°F (-30 to 70°C), 0 to 95% RH, non-condensing

Altitude

6561.58' (2000 m) maximum

Pollution

Degree 2

Dimensions

4.13 x 3.39 x 1.18" (105 x 86 x 30 mm)

Weight

3.7 oz (105 g)

Emissions

FCC CFR 47 Part 15, Class A, EN 61000, EN 61326

Safety

UL61010 Recognized, EN61010