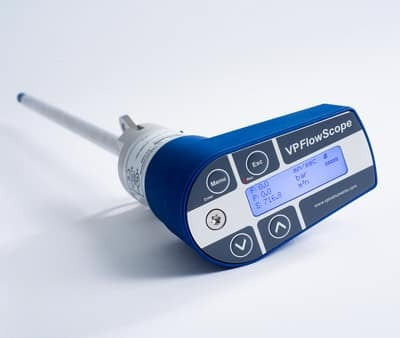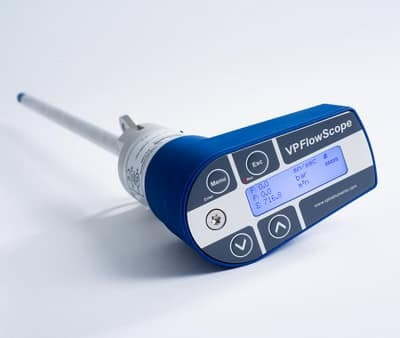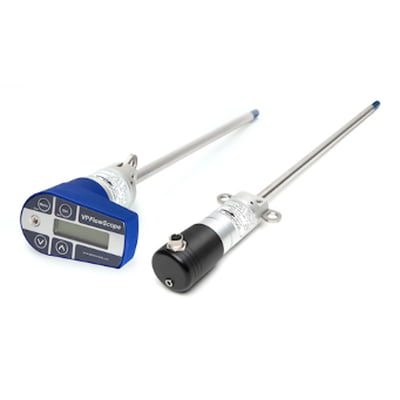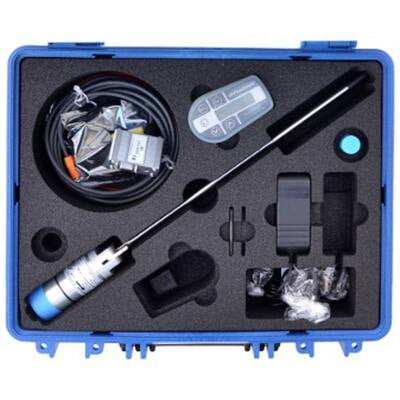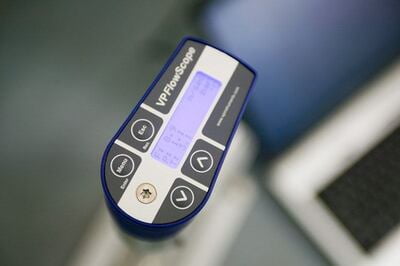 VPFlowScope Probe start kit
The VPFlowScope® Probe measures mass flow, temperature and pressure simultaneously. This probe can handle various diameters and measures in both directions. This makes it the ultimate compressed air audit tool used by leading auditors worldwide. Although the VPFlowScope Probe has been designed for dry compressed air, we also have a measuring probe for wet compressed air; the VPFlowScope DP.
The bright blue LCD display provides real-time information and with the built-in data logger, you can record for certain periods of time. Combine this with our VPStudio software on your pc and you can use this information to process data, print reports and analyze where and how exactly you can save money.
Features/ Benefits
Thermabridge

TM

technology
High dynamic range
Three sensors in one instrument
Standard Modbus and 4 … 20 mA
Bi-directional
Quick return on investment
Applications
Air audits
Demand side monitoring
Sub metering of compressed air
Ring networks (bi-directional)
Your order will include:
The VPFlowScope Probe

A three-row LCD display with 2.000.000 data points data logger

Flow direction sensitivity

A rugged explorer case

An interface box JB5 with 5m/16,4 ft cable (M12 connector) + 12V power supply

An RS485 to USB cable

A compression fitting with Teflon ferrule

A safety cable

A calibration report

An English user manual

VPStudio software
SPECIFICATIONS
Flow
0.5 … 150 m

n

/sec | 0 … 500 sfps
Bi- directional
Included
Pressure
0 … 16 bar G | 0 … 250 psi gauge
Temperature
0 … +60 °C | 0 … +140 °F
Gas types
Compressed air and nitrogen. (calibration report is for compressed air)
Outputs
RS485 (Modbus RTU)
Probe length
400 mm
Power supply
12 … 24 VDC+/- 10% Class 2 (UL)
Approvals
CE, UL/CUL