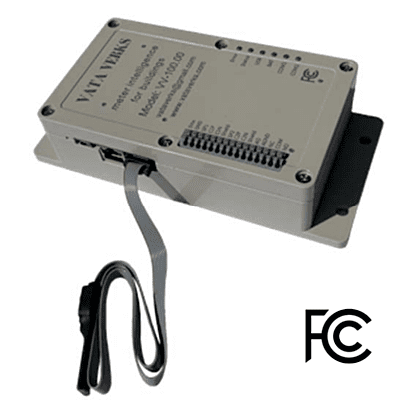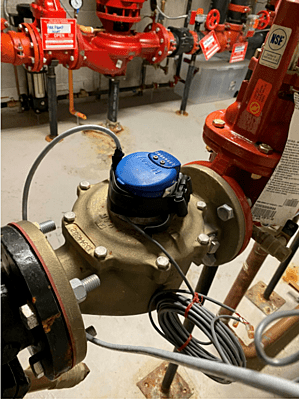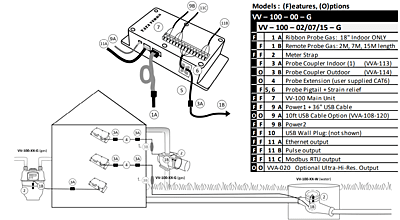 Vata Verks VV-100 (Magnetic Switch Reader)
This product is a magnetic switch reader that detects the rotations on inline gas and water meters. This will work on a majority of the utility based meters for both of these utilities.
 Non‐invasive, disruption‐free water and gas data
 Burial‐safe, water‐proof.
 Auto calibrate / Auto track
 No plumber or utility involvement
 Low profile / inconspicuous
 Compatible with all meter sizes
 Compatible with >95% of installed utility meters
 Highest data Granularity / Resolution available
 Secure Data
 Up to 200 ft of Cat6 cable distance to sensor probe
 Modbus‐RTU and PULSE Output
VV-102 Cable Length Options
Pre-Configured for easy deployment
Building owners and facility managers need building Water and Gas usage
data to track costs, detect anomalies and leaks, oversee operations, to
improve efficiency, for boiler upgrades or CHP baseline studies, and as
required by certifications such as LEED and some regional regulations.
Plumbed utilities, Water and Natural Gas are not like other tracked
variables.
Until now usage tracking cost thousands in plumbers and disruption to
building operations, off‐hour installation, and weeks or months delay.
This is disruptive to project flow, requires property managers to
participate in project coordination of multiple site visits, is expensive, and
results in low‐quality, "dirty" data. A movie we have all seen before.
Vata Verks leverages the meters that already exist in the building,
eliminating hardware, and specialized installation. The sensor simply
straps to the side of the Water or Natural Gas meter and is able to resolve
hi‐resolution, real‐time flow information.
No special installation skills or hardware.
No disruption to project flow or building operation.
No 3rd party involvement or coordination.
Integrates with BMS and building monitoring systems